News
Towards liveable future by using the power of tech - Batch #16 Recap and Ultimate Demo Day by UnternehmerTUM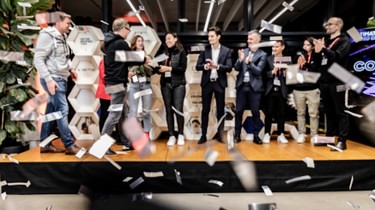 © Bert Willer
TechFounders Summer Batch of 2022 has reached the end of our 20-week program.

For the past five months, these young businesses have been advancing their solutions which have the potential to tackle the biggest challenges our planet and society face today. To maximize the growth and development of our start-ups, we connected the teams with our corporate partners for collaborating on separate pilot projects, brought them together with our mentors, coaches, investors, and UnternehmerTUM network, and arranged multiple events to exchange with industry experts and successful founders.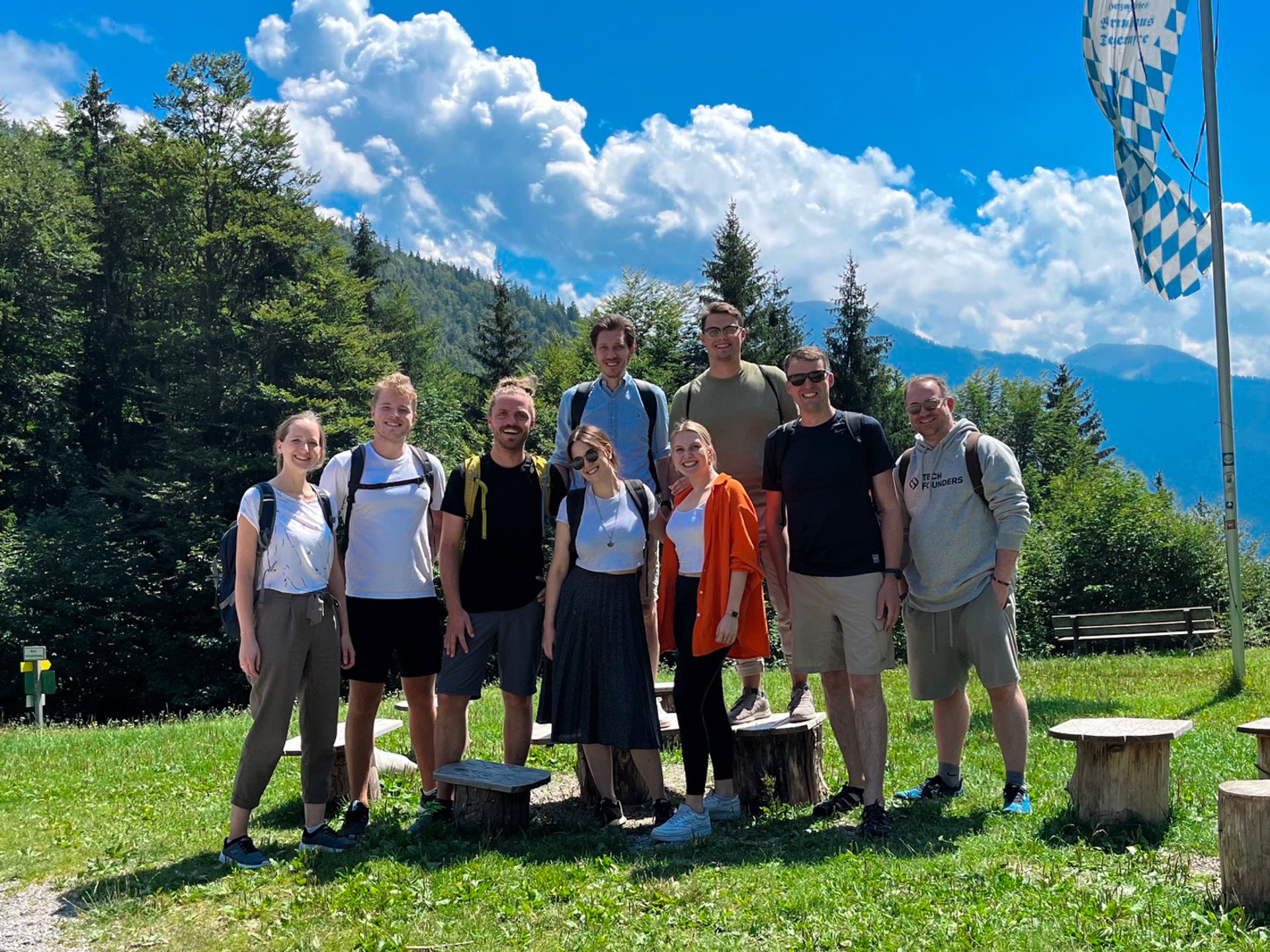 Let's recap our journey
July We started with a competitive selection process that brought together ten start-ups coming from diverse backgrounds and various industries and six different countries (Germany, Switzerland, the US, Greece, Spain, and Ireland). During the first sprint, the start-ups matched with their industry-fitting coaches and mentors and kicked off their pilot projects with their corporate partners: CLAAS with Provizio, Festo with dAlve, HP Tech Ventures with Bottmedical, Cella Medical Solutions, and RTSafe, Knorr-Bremse AG with AWAKE Mobility and COMPREDICT, and LANXESS with Claros Technologies. Reverion and nebumind joined our batch without pilot projects.

The week included various intro coaching sessions and a Kick-off Pitch Event where the founders had the first chance to present their companies and meet with some of the previous program participants, corporate representatives, and mentors. To ensure the teams got to know each other, we spend an off-site day at the beautiful Tegernsee and enjoyed the Bavarian views and food.

September During the remote second sprint, the 1:1 and group sessions revolved around topics such as Product & Pricing, Mindful Leadership, and Sales & KAM. Highlight of the week was our Reverse Pitch Night, where the tables were flipped and our VC partners pitched their companies to the start-ups, who had the chance to exchange with the ones they found interesting for them after the presentations.




October We got to meet the teams again face-to-face at our Munich Colab office for this sprint! The focus during the week was around legal and HR guidance, incl. sessions from Trademark and Intellectual Property Laws to recruiting and team management strategies. Networking events included our VC Pitch Night where the start-ups received immediate feedback from the investors on their presentations and XCONNECT get-together with investors, business angels and the XPRENEURS startups and alumni.

November We dived into financing-related roadblocks the start-ups were facing, e.g. finding fitting financing options and sources, and how to implement sustainability into the core of their business in a way that benefits the companies. The start-up CTOs shared their insights on technical recruiting, scaling software and development processes in their very own get-together with Dimitar Siljanovski, CEO of Intertec.io. In addition, the teams practiced their pitched for the Ultimate Demo Day on an Internal Pitch Night.

December Last mile! The final phase of our program was filled with final coaching sessions on Sales & Marketing, focusing more deeply on how to leverage sustainability for a better business, CEO Fireside Chat with Dominik Sievert, CEO & Co-founder of inveox, and Georg Walder, Co-Founder of INVENOX. And of course putting all the pitch training into action on our Ultimate Demo Day!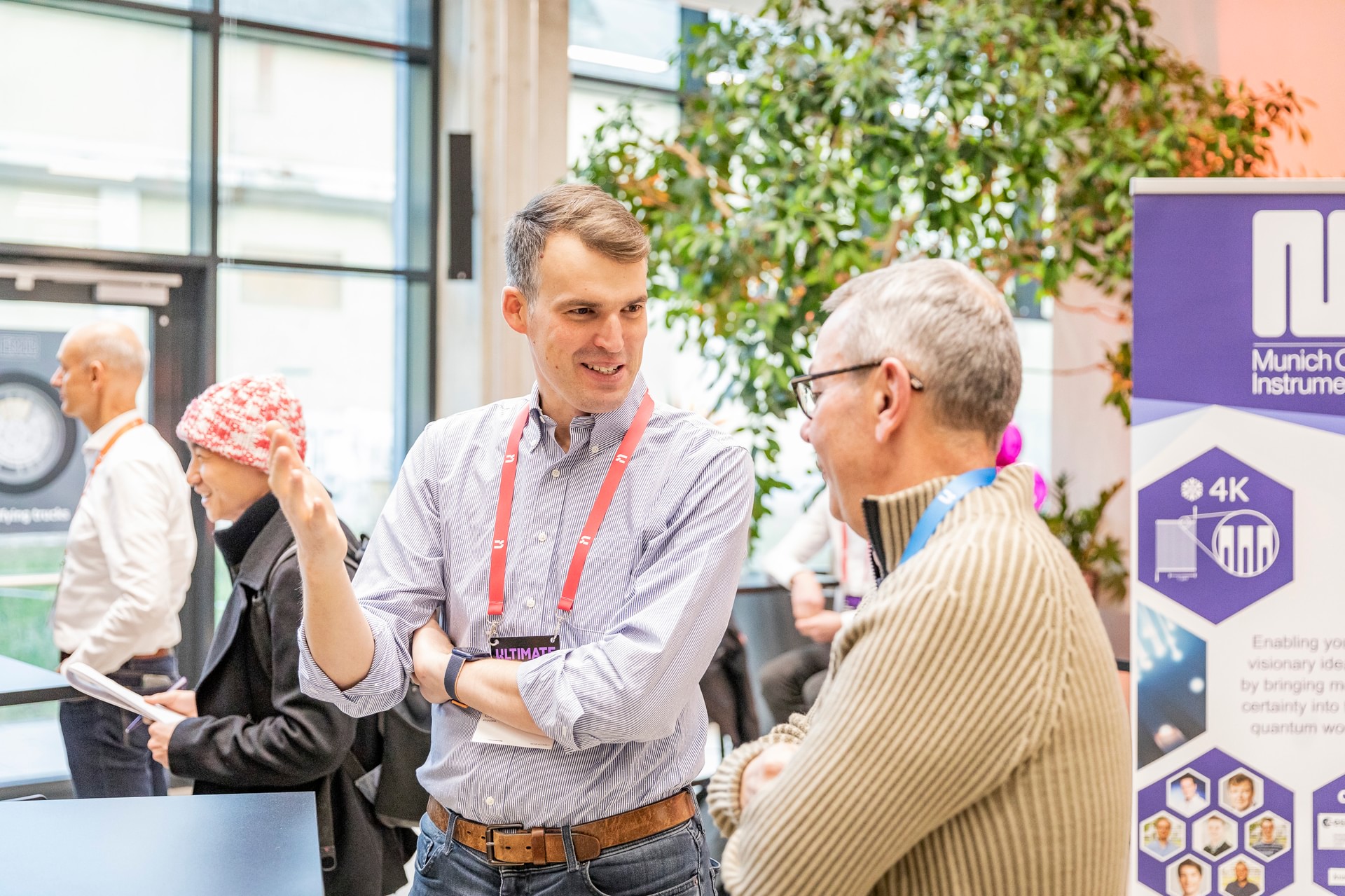 © Bert Willer
60 Innovations to future-proof corporates & SMEs
On December 8, the program grand finale was brought through the Ultimate Demo Daywhich brought together around 600 guests participants including corporate representatives, investors, founders and ecosystem players.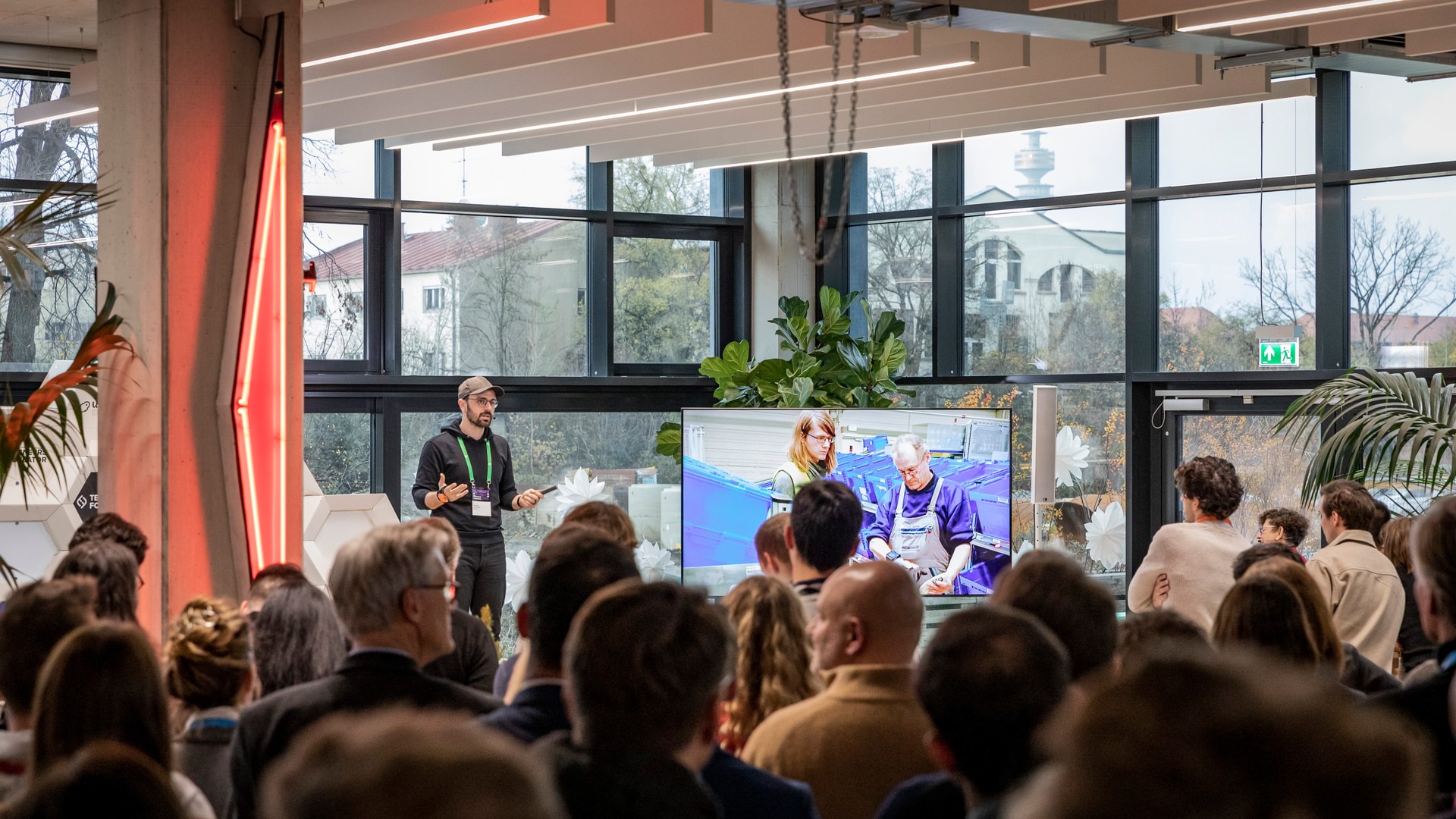 © Bert Willer
The event was kicked off by a speech by Thomas Kirchner, Founder and former CEO of ProGlove, TechFounders alumni start-up from our Batch #1 that got acquired earlier this year with an evaluation of around €500 million. Thomas shared with all the guests the list of success factors that every start-up has to check off to thrive, highlighting the importance of a strong founding team, good timing, direct customer connection, and mastering the art of letting go.
Other stage guests included our host Jennifer Schenker (Founder and Editor-in-Chief at The Innovator), speakers/jury members Konstantin Mehl (CEO of Kaia Health), Juliane Elsner. (Investment Associate, Nauta Capital), Eva Spannagl (Director Strategy & Growth at Moss), Benjamin Erhart (General Partner at UVC Partners), Bernd Storm (Co-founder of Bits & Pretzels), and Felix Haas (Chairman & Co-Host of Bits&Pretzels).
60 start-ups pitched in three separate stages, in six key innovation areas (with TechFounders start-ups in braclets):
Boosting Health & Life Quality (Bottmedical, Cella Medical Solutions, RT Safe)

Enabling Tomorrow's Mobility & Delivery (Awake Mobility, COMPREDICT)

Accelerating Longshot Technologies (Provizio)

Protecting Earth & Climate (Claros Technologies, Reverion)

Automating the Industrial Future (dAlve, nebumind)

Shaping a New Digital Reality
Two TechFounders start-ups, Awake Mobility and RTSafe, were voted as the best pitches in their respective clusters by the jury, rewarding them with tickets to the Bits & Pretzels 2023! The overall win was caught by XPRENEURS program start-up tozero.

The official part of the programme was concluded with an inspirational speech by the "German Forrest Gump", Jonas Deichmann, who shared the crazy twists and turns of his round-the-world extreme triathlon which included completing 120 Ironman challenges.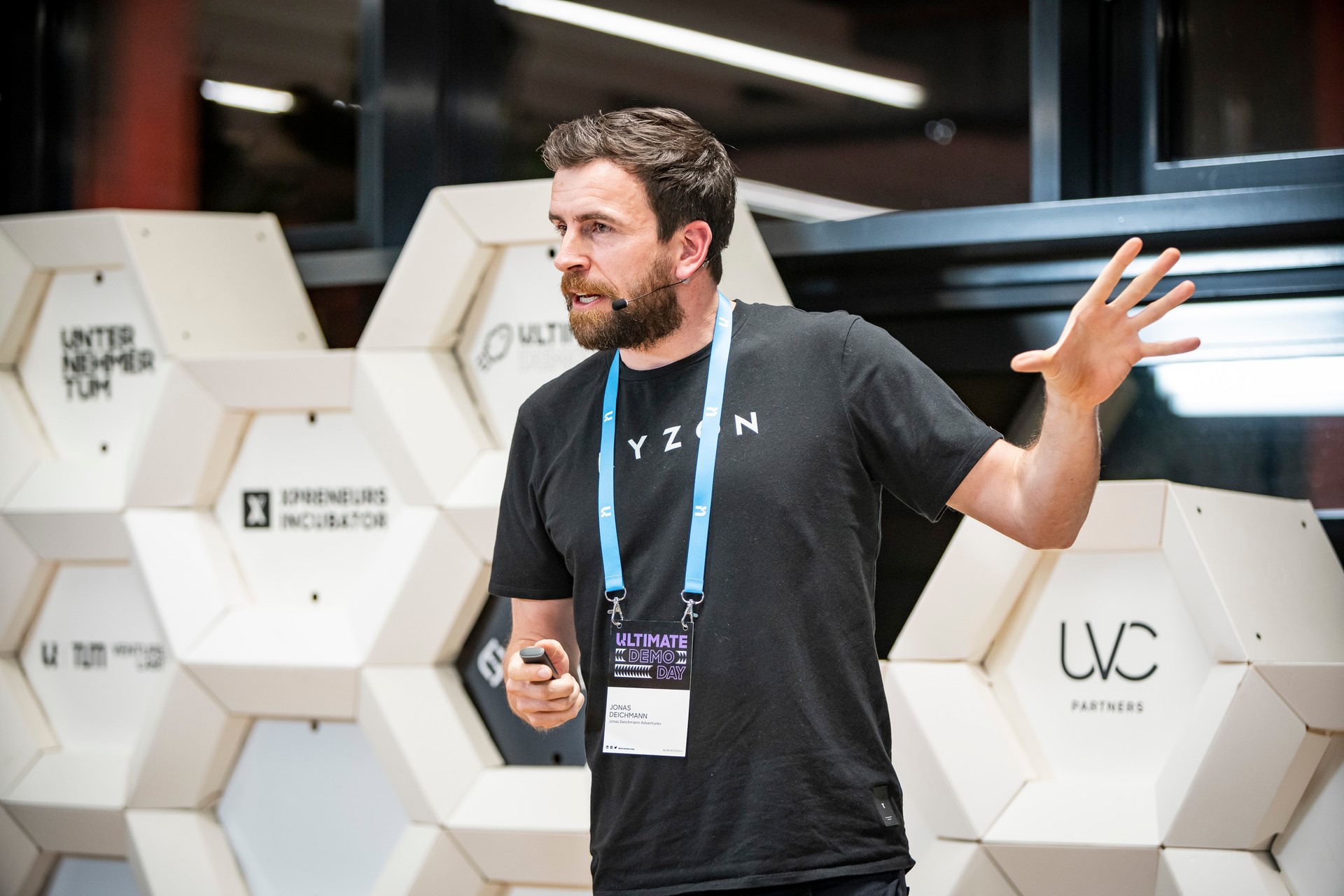 © Bert Willer
Now, we are at the end of our second Batch program for 2022. It has been another incredible five months working with such outstanding teams, and we look forward to continuing to follow and assist them on their journeys. Many thanks to our program partners who help make this support possible and boost innovation and economic growth by assisting young companies.
Ultimate Demo Day was conducted by UnternehmerTUM, TechFoundes, XPRENEURS, TUM Venture Labs, UVC Partners and Initiative of Industrial Innovators.