News
Groundbreaking solutions to pressing issues – International start-up accelerator TechFounders introduces their newest batch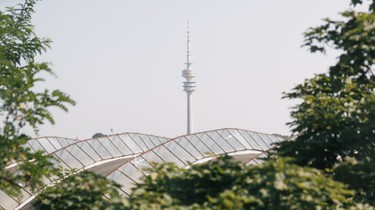 © Thomas Dashuber
Munich, July 25, 2022. International start-up accelerator TechFounders kicks off today their 16th batch with ten selected start-ups from around Europe and the US. The Munich-based accelerator program from UnternehmerTUM, Europe's leading center for innovation and business creation, will support these young companies over the next 20 weeks to further develop their solutions and scale. The startups were chosen in collaboration with TechFounders' Batch #16 corporate partners CLAAS, Festo, HP Tech Ventures, Knorr-Bremse, and LANXESS.
With a new focus on net-zero, healthcare, industry 4.0, fintech, and cybersecurity, TechFounders provides their start-ups with all-around-support and administers proof of concepts projects with the program's corporate partners. During the 20-week program, the selected start-ups will receive tailored coaching based on the roadblocks they are facing, connect with industry experts and experienced mentors, and have various opportunities to present their innovative solutions in front of international investors in various events.
The program recipe has proven to work: 92% of the TechFounders program's 145 alumni companies are still active or have been acquired and they have collected in total over €500 million financing capital. Success stories such as Konux, ProGlove, Arculus, or Inveox prove the high-quality of the TechFounders program from scouting, selection, to onboarding, and accelerating.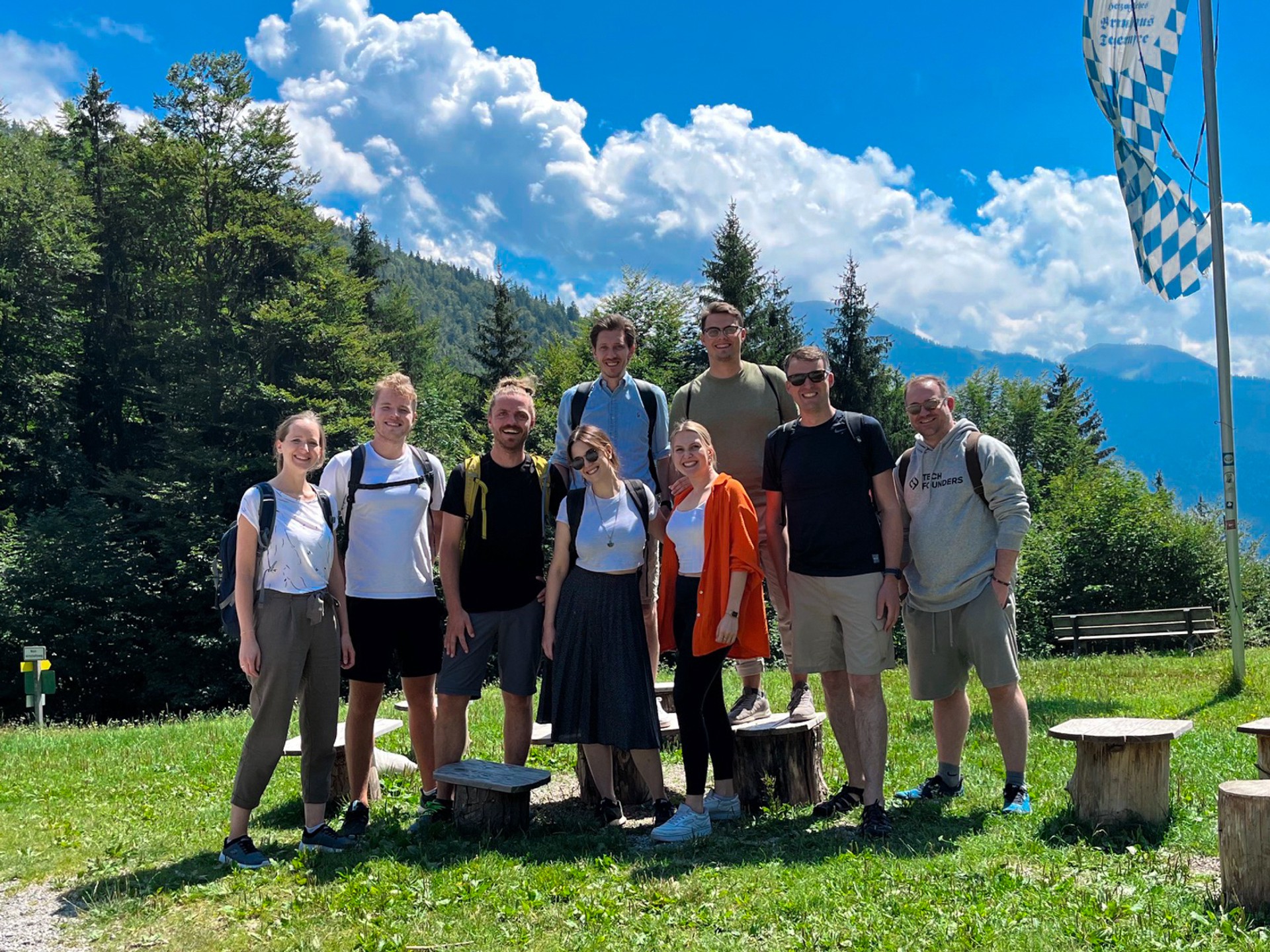 TechFounders Batch #16 Welcome Week Hike
TechFounders Batch #16 Startups
AWAKE Mobility
AWAKE Mobility monitors the health status of vehicles and predicts future technical problems by analyzing deep data, enabling maintaining of entire fleets based on data-driven insights. The Munich-based start-up's solution doesn't only increase the reliability and punctuality of the vehicles, but also drives sustainable transportation by enabling less fuel consumption and CO2 emissions. (Corporate partner: Knorr-Bremse).
Bottmedical AG
Bottmedical from Switzerland has developed the world's first antibacterial invisible brace. By combining a high wearing comfort with natural antimicrobials, Bottmedical's braces revolutionize the way people take care of their oral hygiene. With 3.5 billion people suffering from bad oral health at some point of their lives, Bottmedical's invisible brace has the potential to prevent and treat most common oral diseases. (Corporate partner: HP Tech Ventures).
Cella Medical Solutions
Cella Medical Solutions is a Spanish-based start-up that develops medical solutions using advanced medical image processing, 3D printing, augmented reality, and cloud computing technologies. The company's mission is to create advanced technological services to help surgeons resolve all doubts during the life cycle of a complex surgery, providing the highest level of service and clinical value. (Corporate partner: HP Tech Ventures).
Claros Technologies Inc.
Claros Technologies from the US is an advanced materials company that strives to use the latest advancements in science and engineering to innovate solutions that enable sustainable use, recovery, and reuse of natural resources. The start-up builds sustainable technologies and products to ensure the long-term success of their industrial partners and the perennity of their customers and the environment we live in. (Corporate partner: LANXESS).
Compdirect
COMPREDICT develops software-based virtual sensors to enable an efficient design of development processes and usage-based design of components, to avoid overdimensioning. In addition, the sensors enable the monitoring and analysis of the components of connected vehicles to permit a more sustainable use and service. The solution from this German start-up can be used in any type of vehicle, from cars to LCVs and trucks to trains. (Corporate partner: Knorr-Bremse).
nebumind GmbH
German start-up nebumind offers a "digital twin" software for manufacturers who want to leverage production data for higher process understanding and manufacturing quality. The software makes machine and sensor data accessible, readable and analyzable, and helps manufactures shorten their pre-development phase, reduce production scrap, and automate quality control.
Provizio Ltd.
Provizio develops artificial intelligence tools to put an end to road accidents. The Irish start-up has developed a software-defined active safety platform, 5D Perception®, that perceives, predicts, and prevents automotive accidents in real-time using proprietary long range imaging sensors and AI on-the-edge (Corporate partner: CLAAS).
Reverion GmbH
As a spin-off of the Technical University of Munich, Reverion has developed and patented a technology for electricity generation from biogas with revolutionary efficiency, reversible operating mode and unmatched flexibility. With a founding team that brings more than 25 years of experience in the energy sector, Reverion is unlocking new optimization potential in the biogas market and is ushering in a new era of highly flexible, efficient, and decentralized energy supply.
RTsafe Holdings
RTsafe from Greece leverages 3D printing to create patient-specific, anatomically-exact models of human head and brain tissue, enabling a risk-free way for the medical teams in radiotherapy clinics to simulate the treatment plan for each patient prior to the actual treatment. The solution permits the medical teams to review the accuracy of the dose delivery geometrically and dosimetrically, thus maximizing cancer patient safety and treatment effectiveness. (Corporate partner: HP Tech Ventures).
sustainedBIZZ GmbH
sustainedBIZZ contributes to a sustainable future by innovating products and processes through the combination of physics, simulation, and artificial intelligence to achieve significant efficiency gains. The core of the German start-up's hybrid modeling approach is the AI tool dAIve for engineers, which allows to solve optimization tasks faster and more efficiently by minimizing not only ressources, but also reducing the need of data. (Corporate partner: FESTO).
UnternehmerTUM – Europe's leading center for innovation and business creation
UnternehmerTUM is a unique platform for the development of innovations. UnternehmerTUM actively identifies innovative technologies and initiates new business through the systematic networking of talents, technologies, capital, and customers. UnternehmerTUM offers founders and startups a complete service from the initial idea to IPO. A team of over 300 experienced entrepreneurs, including scientists and investors, supports startups with business creation, market-entry, and financing – also with venture capital. For established companies, a team of experienced consultants offers access to the UnternehmerTUM ecosystem. UnternehmerTUM has many years of expertise in the development of innovation strategies and the implementation of technology-driven business ideas. Founded in 2002 by the entrepreneur Susanne Klatten, the non-profit UnternehmerTUM GmbH is the leading center for innovation and business creation in Europe with more than 80 high-growth technology startups every year – including Celonis, Konux, Lilium, and Isar Aerospace.
Website
LinkedIn
TechFounders
TechFounders is the 20-week tech-startup accelerator program that strategically coaches startups, brings them together with established businesses, and prepares them for the next venture capital round with individual coaching and a broad mentoring network. A total of 145 startups have joined the accelerator program since 2015. With TechFounders, UnternehmerTUM strengthens its role as a central platform for cooperation between startups and established companies.TechFounders also operates the RESPOND Accelerator Program for the BMW Foundation Herbert Quandt and powers the SAP.io foundries as well as the recently launched SAFRAN Explore H2 Program.
Website
LinkedIn