News
LANXESS partners with TechFounders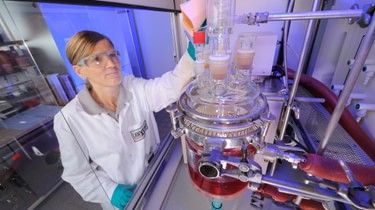 © LANXESS
German multinational specialty chemicals company LANXESS is partnering with the international Startup Accelerator Program TechFounders. By partnering with TechFounders for Batch #16 of the accelerator program, LANXESS is following in the footsteps of some household names – corporate partners for the upcoming batch will also include CLAAS, Festo, Knorr-Bremse, and Miele.
TechFounders has an impressive track record in driving corporate innovation by connecting world-leading companies with startups for the past 6+ years. The Munich-based startup accelerator program of UnternehmerTUM, Europe's leading center for innovation and business creation, brings startups together with established companies to set up strategic collaboration projects.
For the upcoming batch, LANXESS is particularly interested in startups that are developing sustainable solutions for the extraction and refining of battery materials. During a 20-week program, LANXESS will run a pilot project with a selected startup, providing them with valuable industry knowledge and the possibility of long-term cooperation. Philipp Junge, Head of Electromobility and Circular Economy at LANXESS, explained the decision: "We are partnering with TechFounders in order to explore opportunities in new technologies and applications. The interaction and engagement with innovative technology start-ups will help us realize our ambitions in establishing new circular business models."
Sustainability and responsibility are key factors behind LANXESS business operations, evidenced by their listing on the Dow Jones Sustainability index (DJSI World and Europe) and FTSE4Good. In February 2021, the chemicals giant also joined the Women's Empowerment Principles initiative of UN Women and the UN Global Compact.
Download the full press release here
LANXESS
LANXESS is a leading specialty chemicals company based in Cologne, Germany, with sales of €6.1 billion in 2020. The company currently has about 14,900 employees in 33 countries. The core business of LANXESS is the development, manufacturing and marketing of chemical intermediates, additives, specialty chemicals and plastics. LANXESS is listed in the leading sustainability indices Dow Jones Sustainability Index (DJSI World and Europe) and FTSE4Good. They are the second chemical company to become a corporate partner with the TechFounders program after Wacker AG joined in June last year.