The 4th industrial revolution is challenging the status quo of many companies
Fast-paced new technologies such as 5G, robotics, and AR/VR build the backbone for generating new value along the interaction of all players and thus help to also overcome the shortage of resources.
On top, the speed of change in the industrial world is tremendous and leads to more and more complexity. Unbelievable amounts of data are generated which need to be analyzed and understood to take advantage of new services and products. The global industry 4.0 market is expected to grow from 130 billion USD to more than 370 billion by 2029, underlying the importance of acquiring the right tools to stay ahead of the competition.

At TechFounders, we accelerate start-up corporate collaboration in order to bring outside innovation to challenge the status quo of production and manufacturing of industry players from R&D and early engineering up to large-scale production. Apart, start-ups gain the opportunity to test, validate, and further enhance their solutions with top experts and access to industry leaders.

Our focus topics vary from Workflow automation, Condition-based monitoring, Predictive Maintenance, AI-based quality control, robotics, IoT Platform, Modular Manufacturing, Data Management, and 3D Printing up to Novel Packaging Solutions.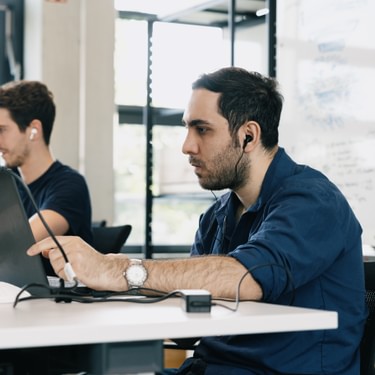 Our Industry 4.0 Portfolio Start-ups
Take a look at our alumni companies that are revolutionizing the field
Interested in hearing more?
Contact Moritz for more information about our Industry 4.0 focused services and collaborations!